Slatwall Organizer Systems
for San Antonio Garages
If storage space in your San Antonio garage is hard to come by, our high-quality slatwall panels will be what you need. These durable, functional, attractive panels convert your ordinary walls into extra garage storage.
Our slatwall wall storage systems are installed directly onto wood or metal stubs, cinder blocks, or drywall. Installation is typically within one day. In addition to looking great and instantly transforming the appearance of your San Antonio garage, slatwall panels can hold up to 50 lbs per square inch, so you can hang your tools, equipment, cleaning supplies, and anything else you want with no problem.
Key Features of Garage Slatwall
Storage Systems
Is installed onto wood or metal stubs, finished/unfinished drywall, and concrete

Made from durable PVC

The load capacity of up to 50 lbs per sq inch

Panels sizes of 96″ W x 12″ H x 3/4″ D

Hundreds of accessories to choose from

Many options of accessories available

Elevlen colors to choose from

Quick 1-day installation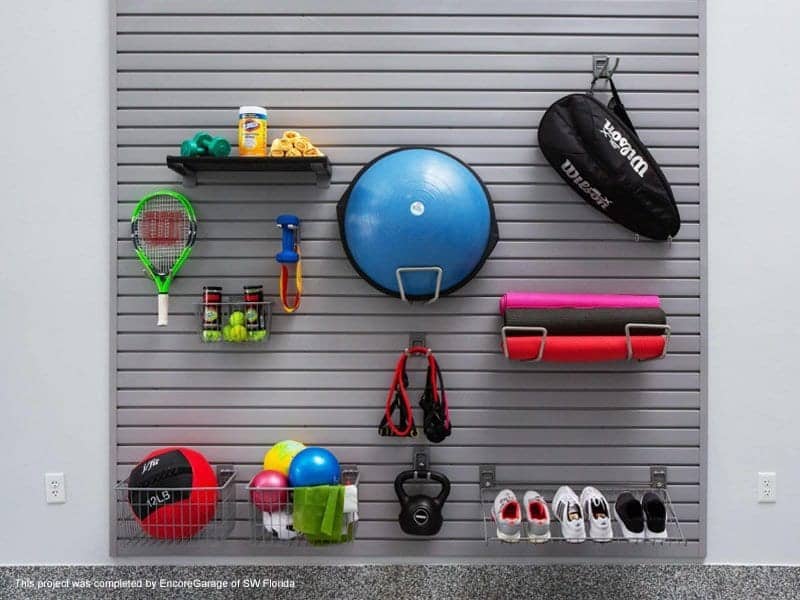 Download our Full Slatwall Catalog
View our E-Brouchure
and let us help you get
inspired to organize
your garage.
11 Colors to choose form including both solid color and wood grains.
Slatwall Accessory Options
Dozens of these great slatwall accessories to keep your garage stuff organized and within easy reach!