Stack N Rack
Garage Shelving System

EncoreGarage's Stack and Rack system is an economical way to maximize storage in your garage. It combines hanging and slatwall storage underneath to provide the most cost-effective layered garage shelving storage on the market. Stack and Rack combine a large 28″ deep shelf that supports up to 1000 lbs per 4-foot section. Options include additional lower shelves, tire racks, ball organizers, and side hooks.
EncoreGarage's heavy-duty Stack N Rack option provides maximum storage without losing floor space. Our patent-pending design delivers functional storage for bulky items on top, the flexibility to hang items below, and the ability to see what's on the shelf through the grid. Built to last, our Stack N Rack holds up to 1000 lb. when properly mounted directly to studs.
When combined with slatwall, the Stack N Rack is more versatile
and cost-effective than any other system on the market.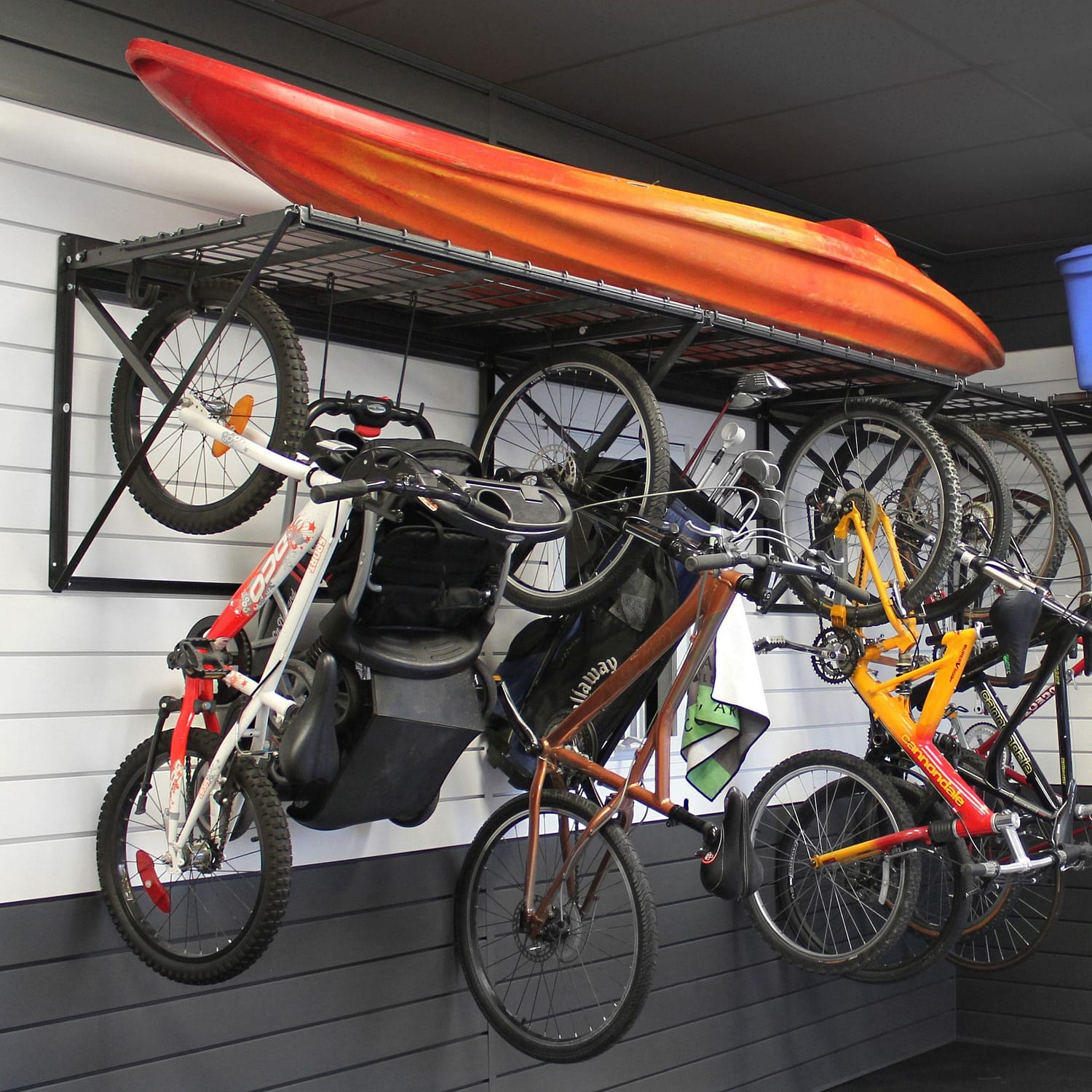 Key Features of Stack N Rack
Heavy Duty Garage Shelving Systems
Installed onto wood or metal stubs, finished/unfinished drywall, and concrete.

Made from durable powder-coated steel.

The load capacity of up to 1000 lbs per 4-foot section.

Sections connected to cover more extended lengths of walls.

Slatwall section uses slatwall hooks and accessories.

Optional lower shelves are available for a wide range of storage configurations.

Optional tire racks are available.

Pack of 4-5″ S hooks and 4-12″ S hooks included with each standard 4-foot section.

Optional side hooks are available.

Optional hanging sports ball basket available.

Quick 1-day installation.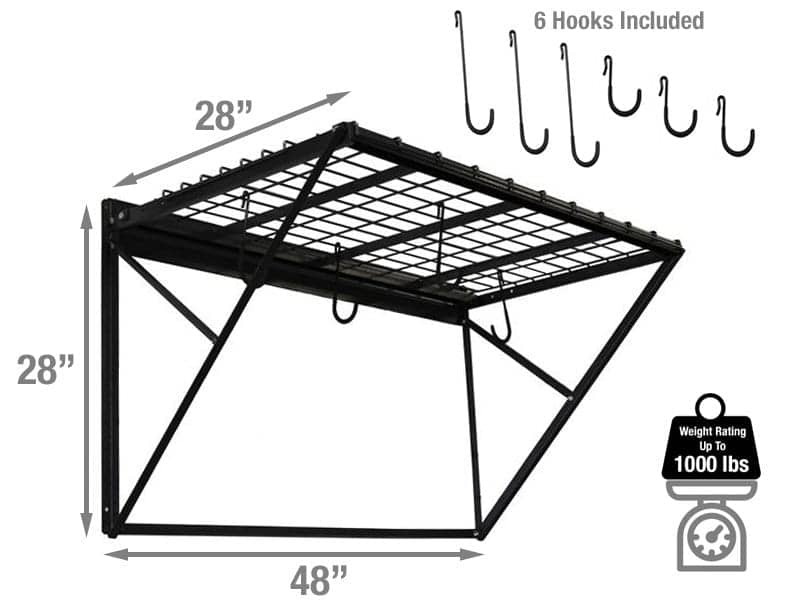 Standard 4-foot Stack N Rack comes with
3 of the 5″ S Hooks and 3 of the 12″ S hooks
12-foot Stack N Rack configuration created by combining three of the standard 4-foot racks
12-foot Stack N Rack configuration with two optional shelves installed on the end units
A Stack N Rack shelf can also be inverted to provide the ultimate versatility in mounting options
S hooks in 5″ and 12″ sizes come with every Stack N Rack shelf, providing a host of hanging storage options
8-foot Stack N Rack configuration created by combining two of the standard 4 foot racks
The optional shelf  makes Stack N Rack the most versatile heavy dury garage shelf system on the market
Standard 4-foot Stack N Rack section shown with optional 2nd shelf
Standard 4-foot Stack N Rack section shown with options tire rack
Sports ball basket is designed to
conviently hand on the side of any Stack N Rack
Optional Double Side Hooks canand attach the side of any section for more hanging storage
Stack N Rack sections connect together to span any lenght of wall space